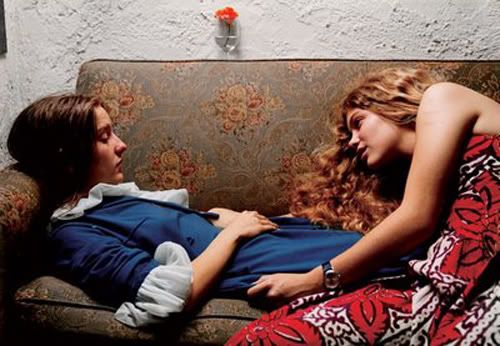 Big Star:
Femme Fatale
Big Star:
Downs
Big Star:
Kizza Me
From
Third/Sisters Lovers
(Recorded in Memphis, Tennessee, late 1974/ early 1975)
Every scene has its own Lesa Aldridge. She is the precocious local barfly, foxy and damaged, always on the arms of the boys in the band. It's a separate species of groupie from the world's Nancy Spungens, Anita Pallenbergs, and Courtney Loves, lost causes who attach themselves to rock stars and swallow them like cancer. Aldridge was more like Miles Davis's Betty Mabry, a catalyzing muse who made talent and trouble indistinct.
The daughter of a Mississippi minister, Aldridge settled in Memphis in her teen years. She was was initially introduced to Alex Chilton, but Andy Hummel was the first to date her. "Her family died tragically and her mother left for a protracted period and it was just Lesa with her two very little brothers and sisters and me hanging around," says Hummel. "She was a senior in high school at the time. I just hung with her extensively at their house in Midtown and we dreamed dreams of a better life and stuff."
(Jovanovic 134)
Lesa entered the Big Star circle through her second cousin, William Eggleston, whose photos were used for the covers of
#1 Record
and
Radio City
. Though he is now lionized as the patriarchal dandy of fine art photography, in the macrocosm of 1970s Memphis Eggleston was simply "Bill," the aging outcast aristocrat who loafed around town on his family's dime and still drank with the college kids. "Bill was a major hell raiser," says Andy Hummel. "As were Alex and me at the time. We drank a lot, stayed out all night, and took all manner of drugs. Bill had no visible means of support that I could ever make out. He just drank like a fish, stayed out all night, screwed all the twenty-year-old girls he could find, and took lots of wonderful pictures. I never did understand why his family put up with it."
During this period Eggleston was hauling a $10,000 large-format camera into bars in an attempt to catalog the faces of Memphis nightlife. In the afterlife of one night's party, Lesa was comforting her best friend on a floral sofa when Eggleston photographed them. From
Smithsonian Magazine
:

The details are a bit sketchy now, but everyone agrees the picture was taken in Memphis, Tennessee, on a late summer night in 1973. Karen Chatham, the young woman in blue, recalls that she had been out drinking when she met up with Lesa Aldridge, the woman in red. Lesa didn't drink at the time, but both were 18, the legal age then. As the bars closed at 3 a.m., the two followed some other revelers to a friend's house nearby. In the mix was a 30-something man who had been taking pictures all night. "I always thought of Bill as just like us," Karen says today, "until years later, when I realized that he was famous."

The picture was taken on the night before she left home for her freshman year at Sarah Lawrence College in New York. Her mother had made the red dress, patterning it after an Austrian folk costume. At the after-hours party, Karen was crying and "really distraught about some boy trouble," Lesa remembers. In order to talk in private, they went into a bathroom, where Karen somehow managed to fall into a bathtub full of water. After she dried off, she put on a blue velour robe that was hanging behind the door. Then the two camped out in the next room and resumed talking.

"Suddenly, in the periphery, I heard Eggleston say, 'Oh, what a beautiful picture,'" Lesa says. "And then people were setting up lights and it was like Hollywood or something." Neither young woman paid them much heed. "I was just in that little world with Karen," Lesa says. "I was so used to Eggleston taking pictures everywhere we went that summer that it didn't even faze me," Karen says.
In the years that followed, Eggleston became the world's most famous art photographer, and his untitled portrait of Lesa and Karen became one of his signature images. Though few admirers know her name, Eggleston's photo transmits Lesa's fragrance, and even the way she wears her watch tells you everything you need to know. Around the time this photo was taken she started dating Chilton, and in those draped curls and unfurled posture Big Star's last record was born.
****
By spring 1974, Hummel had left the band,
Radio City
had been released, and the two remaining Big Star members were both dating Aldridges. Alex had Lesa, and Jody Stephens had Holliday. That fall work started on the third Big Star album, and Chilton and Stephens had re-named their group "Sisters Lovers" to poke fun at their incestuous romantic arrangement.
As it swings from wide-eyed wonder to self-immolation, Big Star's third album (variously known as
Third
,
Sisters Lovers
, or
Beale St. Green
) mirrors the tumult of Chilton's affair with Aldridge. By all accounts, it was a doomed inseparability that entailed all-night cycles of fighting, making-up, drinking and drug abuse. Soaked in feverish sex and narcotic terror, Big Star's third album isn't the product of a proper band, but incidental accompaniment to the couple's private drama.
The third LP has been variously credited to Chilton and Stephens, Chilton and producer Jim Dickinson, and Chilton alone, but above all it is the product of Chilton's twisted partnership with Aldridge. She haunts every song and manifests herself in hidden corners. She sang Nico's part on "Femme Fatale" and collaborated with Chilton for "Downs," an avant-garde prank that has Chilton blathering truths about his drug-addled love life:
Flustered and erratic

'Cept when I lie with you

Naked on a Southern love

Give downs

Rub downs

Lie downs

Any downs at all
Throughout the "Sisters Lovers" sessions Chilton encouraged Lesa's creativity. Aldridge provided diaphanous deadpan vocals to covers of The Velvet Underground's "That's the Story of My Life" and The Kinks' "Til the End of the Day," neither of which ever saw release. Following the final dissolution of Big Star in 1975, they formed a cacophonous acoustic trio with Lesa's old pal Karen Chatham and called it Gangrene and the Scurvy Girls. The group made "Downs" sound like The Carpenters and they only lasted a few gigs. The Aldridge-Chilton union ran aground shortly thereafter. Lesa found a new guy, and a dejected Chilton wrote "My Rival," an anthem for the spurned and incoherent:
My rival

I'm gonna stab him on arrival

Shoot him dead with my rifle

My rival, he stole my girl away
In 1980, Aldridge ended the relationship for good when she left Memphis and moved to the northeast with her mom. She is now a mother of three and a high-school English instructor in Nashville. I can only hope that each year when she teaches
Lolita
, a few of her students dig up the Eggleston portrait and go on to uncover the damaged love affair that lies just beyond its quiet, painterly facade . In his photo Eggleston captured her spell, but its effects are imprinted in the violent gyrations of "Kizza Me," where Chilton delivers the chorus in an exclamation of exasperation:
I want to feel you, yeah

Kizza me

Lesa

Why not!